Click for ADGA Pedigree
LA @ 1 yr: 87 VVVV
LA @ 2 yr: 86 VV+V
LA @ 3 yr: 89 VEEE
LA @ 4 yr: 88 EEVV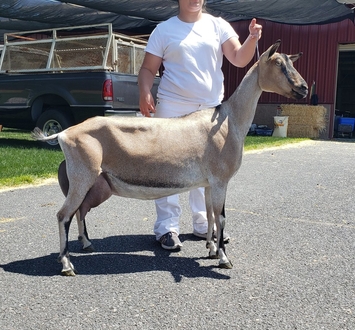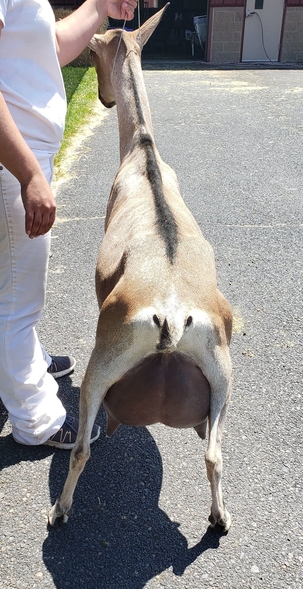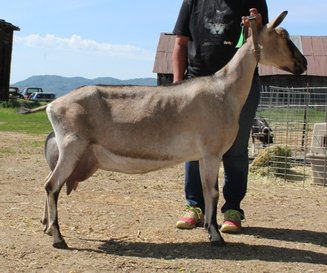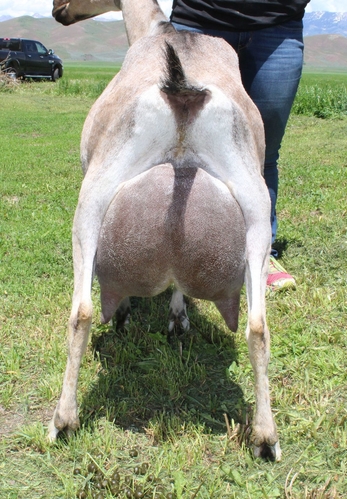 Sire
+*B SOLDIER-MTN MAXIMUM VELOCITY

Sire
SG REDWOOD HILLS REVOLUTION SPEED
* ELITE SIRE*


Dam
GCH SOLDIER-MTN PVLM MADAME MAXIME 92 EEEE
Dam
SCGH SOLDIER-MTN ITALIAN ICE 91 EEEE


Sire
+B WAIILATPU HLL BAXTER
Dam
SG SOLDIER-MTN LADY AGATHA 90 EEEV
Cafe is one of the last daughters from our beloved Italian Ice, bucking the white trend by being a plain old chamoisee. As a yearling she was one of the top producers, already showing the dairyness and productivity that was so exemplified by her dam. She peaked at 13.2# before we started backing the girls down for an early fall dry off, something we do every few years in order to preserve the sanity of the goat keepers.
People tend to forget that although yes, we do have incredible producers, we are not a commercial dairy and unless we are really motivated to prove out a particular animal, we have no reason to milk into the winter months. We also have a busy family schedule, and that has to come first.
Cafe appraised at 13 months old with a very respectable 87 VVVV, and continued to mature nicely over the rest of the year. She is not a flashy doe, but solid all the way around, a definite keeper.
2017-
Growing up into one of the milkiest does in the barn, Cafe has been bred to our Senior herdsire Soldier-Mtn RD Lip Service for a February 2018 kidding.
2019-2020- Cafe is all about MILK! She is one of the biggest milkers in the barn, with an unbelievable will to keep going. She would easily be a candidate to milk through, if only her owners wanted her to! :) We hauled our entire herd to the 2019 National show, and so Cafe finally got to see the inside of a show ring. Although I definitely would not call her our top show goat, she managed a VERY respectable 16th place in the 5-6 yr old milking class. Cafe lives to eat, and secondly to MILK! This is not a line you want if you don't want big production - she eats a lot, she milks a lot, and she usually gifts us with triplets or quads!
I'm sad to say that we did not get a VT done on Cafe this year, as I am sure she would have been in the running for Top Ten with 4800# Ah well, next year!
Cafe is bred to Lacey Oak OC Ambition for early February 2020 kids. I think this will be an interesting cross that may bring in a little more correctness to the mammary system, hopefully without giving up any production.
Deceased Jan 2020. One buckling is available. $800
MILK RECORD

LIFETIME TO DATE: 1223-17927-579-445
Lac   Fresh   DIM   Herd  CtrlNo  Proc_Date  Mod_Date LT Mk LI TC TC2 OS% PC Opn DCR Milk  DCR  Fat DCR Prot DCR  SCS Bth NTD
 1 2015/04/25 220 82840105   104 2016/02/16 2016/02/18 0 00  0  0       0  0  -1  94  2410  94  113  94   60  96 3.79   0   5
 2 2016/03/08 220 82840105   104 2016/12/29 2017/01/07 0 40  0  0       0  0  -1  96  2570  96   78  96   59  96 3.66   0   5
 3 2017/02/19 255 82840105   104 2018/02/13 2018/02/15 0 40  0  0       0  0  -1  95  3920  96  108  95  100  95 3.38   0   4
 4 2018/02/27 245 82840105   104 2019/01/18 2019/01/18 0 40  0  0       0  0  -1  95  4060  95  126  95   96  95 3.71   0   4
 5 2019/03/02 268 82840105   104 2019/12/04 2019/12/06 1 c0  0  0       0  0  -1 100  4800 100  149 100  124 100 4.11   0   6