Soldier-Mtn PVRA Wind Chill


(click for ADGA pedigree)


Sire
*B Pearl Valley Rainman Aragon
89 VEV

Sire
++*B Redwood Hills Kane Rainman

Dam
SGCH Pearl Valley Jayhawk Aroura
93 EEEE

Dam
SG Soldier-Mtn PVLM Hummingbird
VEEE 90


Sire
+*B Pearl Valley Laredo Montego


Dam
SGCH Pearl Valley Sequence Snowbird
91 EEEE


LA@1 yr: 86 VVVV
LA@3 yr: 88 VEVE

2 yr old


2011- Chill is finally growing up! As you can tell by her 2 yr old photo, she is oh-so-slowly growing into that big long frame of hers. When I look at her, I still see a baby. I imagine as a 3 or even 4 yr old, she will come into her own. I am trying to practice patience! Her udder is super soft, has lovely shaped and sized teats, nice width in the rear, and milks down to nothing. Her 2011 doeling by Assassin is SO lovely that we have opted to leave her as a dry yearling for our show string.

Chill is bred to Redwood Hills Revolution Speed for February kids $450. See breeding chart for available reservations.





2010- Chill never did get a good uddered up photo -- it is on the top of my list of things to do when she freshens this year! Wind Chill is a long, lean-necked, flat-ribbed and stretchy doe. Our appraiser claimed she had the best udder of all the yearlings, and that it would definitely mature out to an E mammary system. Her "E" rump is flat and gorgeous - scoring a 43! Chill reminds me a lot of another doe we owned- Pearl Valley Renegade Hallie. She has the same build, and will likely take the same time to develop. Does like this make it worth the wait.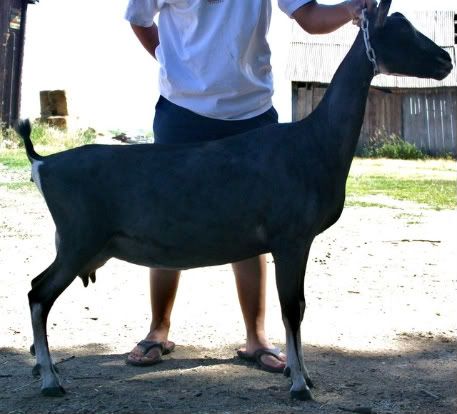 Age 1 - milked out






MILK RECORD

1-00-210-1140-33-31
1-11-256-1450-56-41