Click for ADGA pedigree
DOB: 5-16-11
2019 NATIONAL SHOW LIFETIME MILK AND BUTTERFAT AWARD WINNER!
LA@ 3 yrs: 90 VEEE

LA@ 4 yrs: 91 EEEE
LA@ 6 yrs: 91 VEEE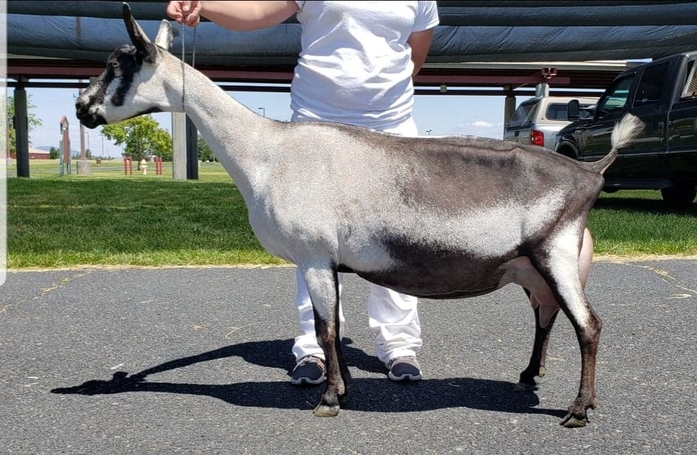 2019 - Age 8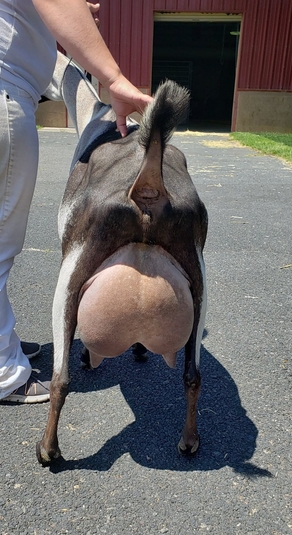 Age 8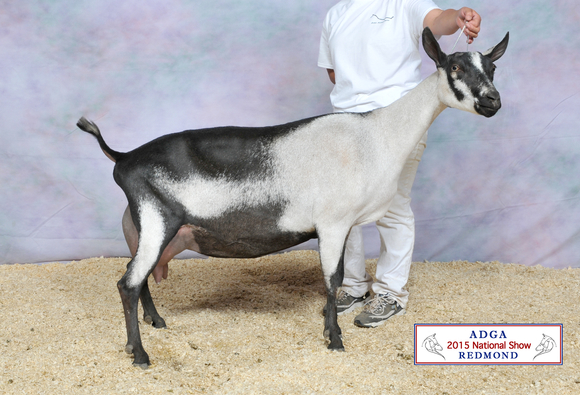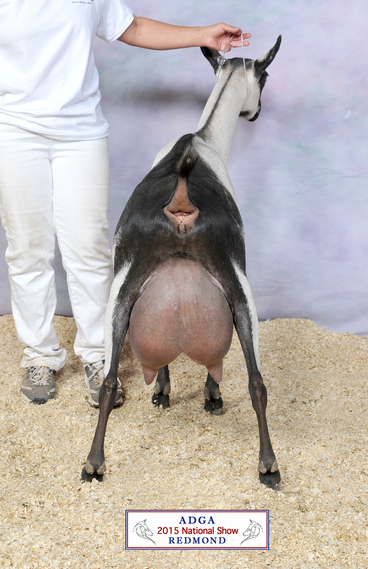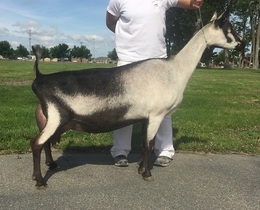 5th place Junior Yearling 2012 ADGA Nationals

Sire
Pearl Valley Speed Nyeri


Sire
+* B Redwood Hills Revolution Speed


Dam
Pearl Valley Laredo Nakuru
LA 89 VEEE - yearling score


Dam
Soldier-Mtn X-Rated Diva
LA 92 EEEE

Sire
*B Shining-Moon X-Rated


Dam
SGCH Pearl Valley Sequence Snowbird
91 EEEE



Mae West and her sister Clara Bow are our two yearling Diva daughters. We experimented with having them freshen in the fall to be able to see udders before winter set in, and therefore move out animals that were not going to make the cut. Well, the joke was on us, because both of them are definite keepers!

Mae and Clara were 4th and 5th place in the Junior Yearling class at the national show this year. Mae has a slightly smoother front end assembly, but Clara has more stretch and style. When they were younger, I would have said that Mae had more strength, but as they have matured that is no longer the case. Mae's udder has phenomenal attachment all around, but Clara has more desirable teat placement and shape. Really, they are two wonderful does that just have slight differences between them. Mae has already been bred back for a spring kidding, and Clara will be as well as soon as she cycles.

2013- Clara is maturing into just the kind of doe I dreamed of! She has kept all the wonderful qualities of her dam, Diva, and improved upon them. She has a beautifully balance mammary system, with exceptional all around attachment. She has tremendous grace and presence as she walks, and an incredibly flat and wide rump. I absolutely cannot wait to show this girl in 2014, and what a dam and daughter pair she and Diva are going to make! Unfortunately she was pregnant at appraisal this year, so will not have a score until our next session.
2017- Clara is still one of the stars of the barn. A few years ago, she produced a phenomenal buck for us sired by Sodium Oaks Sasin. That buck unfortunately died suddenly as a yearling, but not before he produced some of our nicest young does. We liked that cross so well that we have repeated it for 2018!
2019/2020- What to say about Clara - she has been one of my personal favorites for many years. She is stubborn, persnickity, and completely assured of her own superiority. She is also one of the grand old leaders in the herd, and is all business when it comes to milking. We have her son by the fantastic Sodium Oaks Sasin working here in the herd, another working in Russia, and another in Texas.
At the 2019 National Show, she was 5th place aged doe, and stunned us all when she won the awards for Lifetime Production, and Lifetime Butterfat!
She has always settled easily via A.I. and we are anxiously awaiting her 2019 doelings by Hoach's Revolution freshening this spring. She is bred to Willow Run Atlas Ransom for 2020, and I have a feeling these will be special!
Clara never did get out to get her 3rd champion leg....and if I can refrain from milking her, that is just how it will be. At 9 years old, she is ready to stay home and enjoy the rest.
MILK RECORD
Lifetime: 1966-20602-717-537
Lac   Fresh   DIM   Herd  CtrlNo  Proc_Date  Mod_Date LT Mk LI TC TC2 OS% PC Opn DCR Milk  DCR  Fat DCR Prot DCR  
 1 2012/10/10 232 82840105    71 2013/06/04 2013/08/23 0 00  0  0       0  0  -1  96  1970  95   94  95   60  97  
 2 2013/06/17 216 82840105    71 2014/01/24 2014/01/30 0 48  1  0       0  0  -1  98  1800  98   81  97   53  98  
 3 2014/03/24 301 82840105    71 2015/01/27 2015/01/31 0 40  0  0       0  0  -1 101  3160 101  110 101   89 101  
 4 2015/03/18 258 82840105    71 2016/03/15 2016/03/15 0 40  0  0       0  0  -1  99  2840  99  104  99   73  99  
 5 2016/03/06 222 82840105    71 2016/12/29 2017/01/07 0 40  0  0       0  0  -1  96  2250  97   73  96   53  97  
 6 2017/03/06 175 82840105    71 2017/08/31 2017/08/31 1 c0  0  0       0  0  -1  94  2250  94   67  94   55  94  
 7 2018/03/14 230 82840105    71 2019/01/18 2019/01/18 0 40  0  0       0  0  -1  93  3090  94   94  93   74  94
 8 2019/03/01 267 82840105    71 2019/12/04 2019/12/06 0 40  0  0       0  0  -1  97  2520  97   75  97   62  97 
Yearling udder