Click for ADGA Pedigree
LA@ 4 yrs: 90 EEEV
LA@ 3 yrs: 90 VEVE
LA@ 2 yrs: 90 VEEE
LA@ 1 yr: 88 VEEE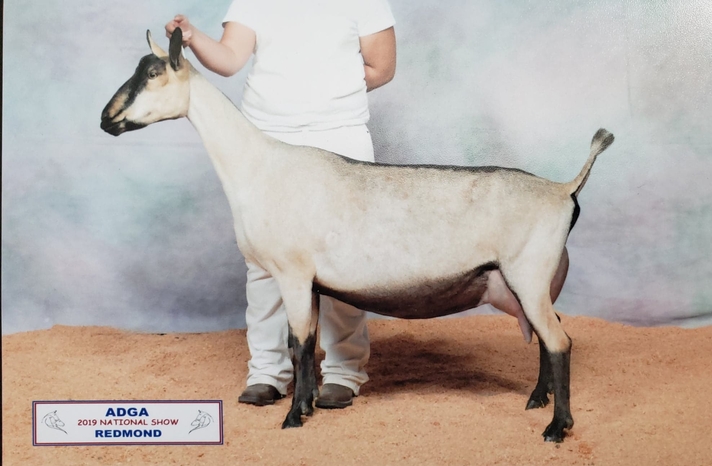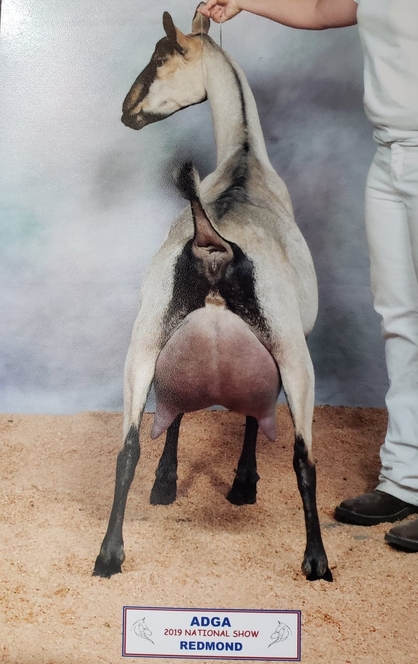 -
-
2019/2020- Grace is one of those does that just makes you want to look at her! At the 2019 National show, she was 3rd place 5-6 year old, finally managing a (BIG!) placing over her rival Intrigue. Grace is sharp, angular but does not skimp on the width and power we would expect from her pedigree. She can be aloof, but goes along with the whole show thing as long as cookies and unlimited pellets are involved!
Grace has played bridesmaid to Intrigue for so long that she is STILL working on getting that 3rd leg. Unfortunately the last few years have been a real challenge for us to get out and show, hopefully 2020 is going to be the year we get all these girls out to strut their stuff!
We had problems getting Grace bred this last fall, but I am happy to say she is finally settled for April 2020 kids from Lacey Oak OC Ambition. I am expecting stellar general appearance, and improved teat placement from this breeding. They should be fancy!
-MILK RECORD
LIFETIME TO DATE: 1169-11102-353-319
Lac   Fresh   DIM   Herd  CtrlNo  Proc_Date  Mod_Date LT Mk LI TC TC2 OS% PC Opn DCR Milk  DCR  Fat DCR Prot DCR  
 1 2015/05/06 209 82840105   107 2016/02/16 2016/02/18 0 00  0  0       0  0  -1  92  1650  91   70  92   46  92  
 2 2016/03/06 222 82840105   107 2016/12/29 2017/01/07 0 40  0  0       0  0  -1  96  1710  97   51  96   52  97  
 3 2017/02/18 256 82840105   107 2018/02/13 2018/02/15 0 40  0  0       0  0  -1  96  2590  96   74  95   75  95  
 4 2018/04/25 188 82840105   107 2019/01/18 2019/01/18 0 40  0  0       0  0  -1  87  1930  88   51  86   56  88  
 5 2019/02/19 279 82840105   107 2019/12/04 2019/12/06 1 c0  0  0       0  0  -1 100  3120 100  104 100   87 100