click for ADGA pedigree
LA @ 2 yr 90 EVEV
LA @ 1 yr 86 VEVV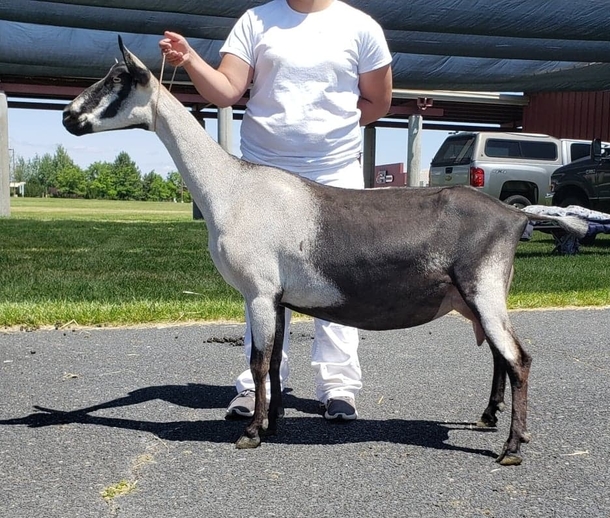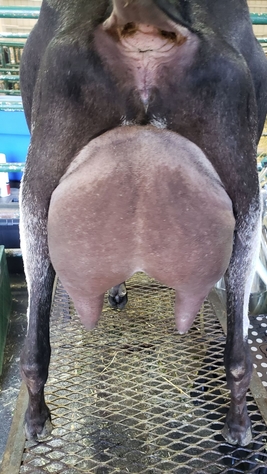 2019 - 3 yr old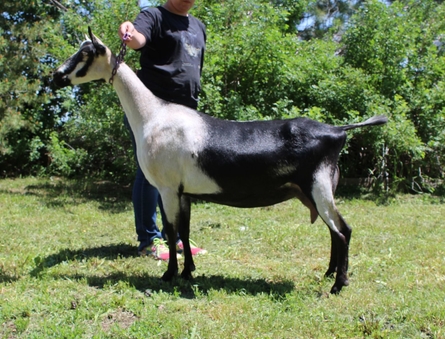 2 yr old
Yearling- 4 hours milk
2019/2020- Despite boasting a Rear Udder height of 42 (41 as a 2 yr old) and a Rear Udder arch of 40, Illusion is a sweet, quiet girl that often goes unnoticed in the barn. She stays out of the drama, and keeps her head in the feed bunk. She has a lovely profile, being long, tall and stretch. Her worse fault is that she does have a short foreudder, although I think that as she ages and her barrel begins to drop, that is going to be less noticed.
At the 2019 National Show, she was 18th place 3 yr old milker at one of her few outings from the farm.
Illusion is bred to Colquitt's Delta Force for a late March kidding. If you want to add length - this breeding should do it! This should also help bring that foreudder forward, while keeping the pretty rear and teat placement.
MILK RECORD

LIFETIME TO DATE: 746-5133-167-118
Lac   Fresh   DIM   Herd  CtrlNo  Proc_Date  Mod_Date LT Mk LI TC TC2 OS% PC Opn DCR Milk  DCR  Fat DCR Prot DCR  SCS Bth NTD
 1 2017/03/04 242 82840105   122 2018/02/13 2018/02/15 0 00  0  0       0  0  -1  92  1020  92   34  92   26  94 4.24   0   4
 2 2018/03/04 240 82840105   122 2019/01/18 2019/01/18 0 40  0  0       0  0  -1  94  2270  95   76  94   51  95 4.59   0   4
 3 2019/03/04 264 82840105   122 2019/12/04 2019/12/06 0 40  0  0       0  0  -1  97  1830  97   57  97   41  97 4.38   0   5