Click for ADGA Pedigree
LA@2 yrs : 90 EVEV
LA@ 1 yr : 88 VEVE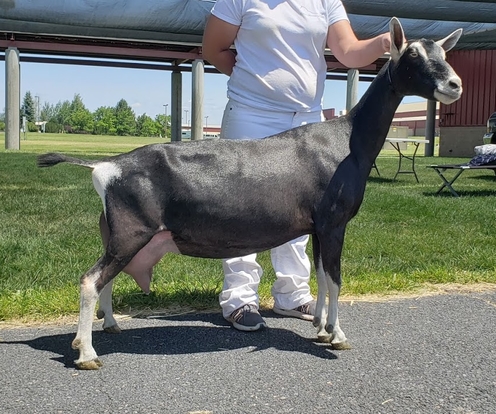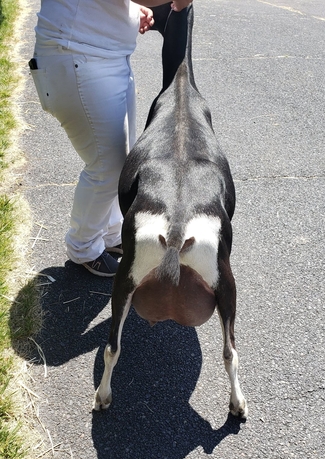 3 yr old - 9th place National show
Yearling - 4 hours milk
2019/2020- Image is a young and upcoming doe that I cannot wait to see develop. She is going to be a slower maturing doe, but I think she is going to be worth the wait. She has a gorgeous rear udder with a RUH of 40 and perfectly plumb teat set. Not quite sure what garnered her a "V" mammary as a 2 year old, but I am confident that will improve as she ages as well. Image is not the tallest doe in the barn, but she certainly is one of the smoothest.
At the 2019 National Show, Image was the 9th place 3 yr old milker, with her littermate sister Illusion garnering an 18th place.
Image is bred to Lacey Oak OC Ambition for a late March 2020 kidding.
MILK RECORD

LIFETIME TO DATE: 746-5133-167-118


Lac   Fresh   DIM   Herd  CtrlNo  Proc_Date  Mod_Date LT Mk LI TC TC2 OS% PC Opn DCR Milk  DCR  Fat DCR Prot DCR    
 1 2017/04/01 214 82840105   123 2018/02/13 2018/02/15 0 00  0  0       0  0  -1  88  1300  88   34  88   33  90 
 2 2018/04/01 212 82840105   123 2019/01/18 2019/01/18 0 40  0  0       0  0  -1  91  2450  92   79  91   53  92  
 3 2019/05/03 204 82840105   123 2019/12/04 2019/12/06 0 40  0  0       0  0  -1  88  2320  89   84  88   50  90