Click for ADGA Pedigree
LA@ 1 yr: 89 VEVE
LA@ 2 yr: 90 EVEV
LA@ 3 yr: 91 VEEE
LA@ 4 yr: 91 EEEE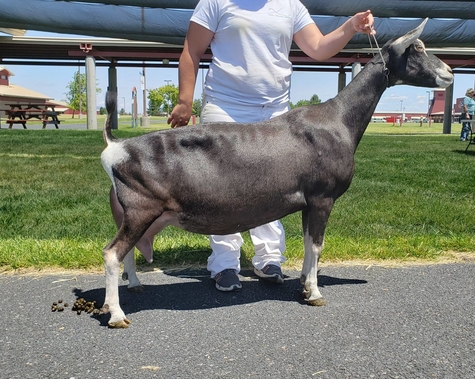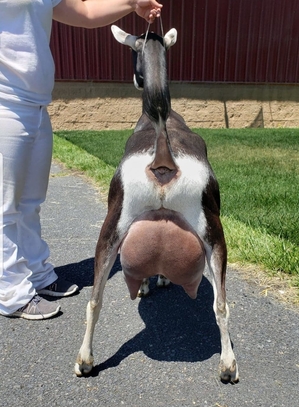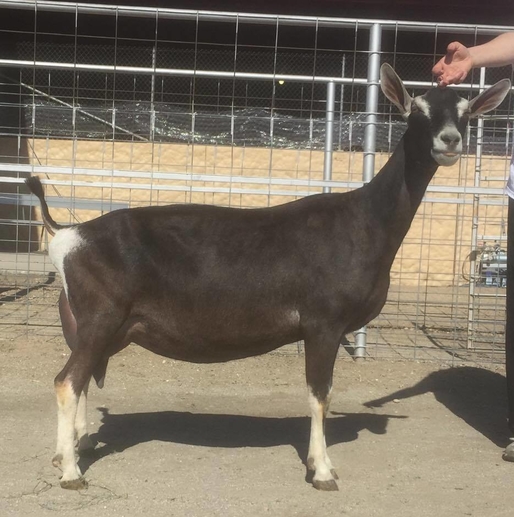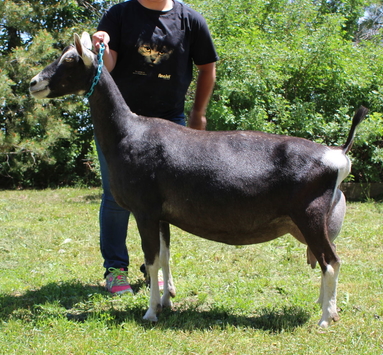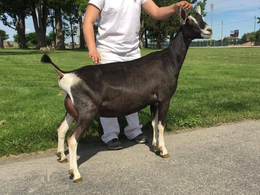 yearling
Baby Intrigue!
Sire
*B TEMPO AQUILA RIMROCK DESPERADO
Sire

+*B REDWOOD HILLS JAZZ RIMROCK
Dam

SGCH TEMPO AQUILA ROSAMARINA 92 EEEE

Dam
SOLDIER-MTN RHRS INSINUATION 91 EEEE


Sire

++*B REDWOOD HILLS REVOLUTION SPEED
Dam

GCH SOLDIER-MTN X-RATED INNUENDO 91 EEEE
2019/2020- Intrigue is long, tall, wide but gives up nothing in dairy strength. She just keeps getting better as she gets older, and now at 6 years old, shows no signs of slowing down. She was 10th place 5-6 yr old at the 2019 National show. One of her best attributes is her easy going demeanor in the barn, nothing much bothers her, and she can usually be found with her head in the feed bunk!
She is due in March 2020 with a breeding to our Sasin son, Sasin Selleck, in a genetic rebreeding that created Illusion and Image. Very excited for this one!
MILK RECORD

LIFETIME TO DATE:
1119-10834-357-285

Lac   Fresh   DIM   Herd  CtrlNo  Proc_Date  Mod_Date LT Mk LI TC TC2 OS% PC Opn DCR Milk  DCR  Fat DCR Prot DCR   
 1 2015/04/06 239 82840105    95 2016/02/16 2016/02/18 0 00  0  0       0  0  -1  96  1410  95   73  95   39  97  
 2 2016/03/08 220 82840105    95 2016/12/29 2017/01/07 0 40  0  0       0  0  -1  96  1840  96   54  96   48  96  
 3 2017/03/16 165 82840105    95 2017/08/31 2017/08/31 1 c0  0  0       0  0  -1  92  1690  93   58  92   49  92  

4 2018/05/01 182 82840105 95 2019/01/18 2019/01/18 0 40 0 0 0 0 -1 85 2690 87 68 85 65 88
5 2019/03/20 248 82840105 95 2019/12/04 2019/12/06 0 40 0 0 0 0 -1 95 2630 95 87 95 68 95