Soldier-Mtn PVRA Irene
(click for pedigree)

Sire
*B Pearl Valley Rainman Aragon
89 VEV

Sire
++*B Redwood Hills Kane Rainman

Dam
SGCH Pearl Valley Jayhawk Aroura
93 EEEE

Dam
Waiilatpu WRAT Ginger
91 EEVE

Sire
+* B Willow Run Abraham Tsavo


Dam
Waiilatpu WRAL Gaby



DOB: 3/12/2008





2012 ADGA Nationals - 9th place 4 yr old
Age 3
LA @ 1 yr 84 +VV+
LA @ 2 yr 88 VVEV
LA@ 4 yr 90 EEEE

MILK RECORD
LIFETIME TO DATE: 1105-8980-373-239

1-00-228-1330-64-35
1-11-257-1970-68-53
2-11-277-2550-110-67
3-11-343-3130-131-84

2010- Irene inherited her dam's lovely mammary system with a bit more style coming from granddam Aroura. Her udder is high, tight, and very smooth in the fore.
Irene has matured an incredible amount over the last year. She has tremendous body capacity and width throughout. E rear legs, E back, E rump! Her mammary system just keeps getting better. I'd like to see her teats a little more centered, but the attachment all around is outstanding and does not move an inch.


2011- Irene has developed into a lovely young doe. She is strong, wide, and has a lovely socked-on mammary system. I see her just getting better and better as she ages and matures. She boasts one of the widest and flattest rumps in the herd, and has a lovely wide muzzle to complete the package end-to-end.

2012- Wow, Miss Irene finally has grown up! It is very interesting to me to go from her yearling picture below to the 4 yr old picture from this year. This is a doe that has had a slow, steady maturation year to year, as evidenced by her appraisal scores. She was one of our excellent appraising does this year, with a score of 90 EEEE! Irene has always been something of a pain to show (and I think I have threatened to sell her every year) but this year she got it together and was 9th place 4 yr old at Nationals! I guess she'll have to stay....

2013 - Well, much to my displeasure, Miss Irene decided to take the 2013 year off. With any luck, we will get her settled and back on track for 2014.



ear.
Irene- shown here milked out, summer 09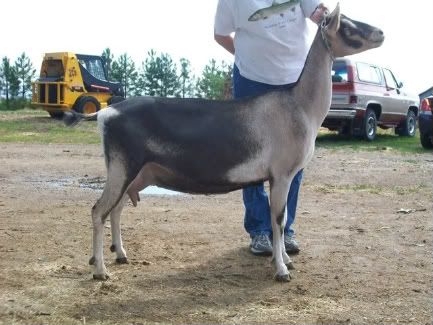 Irene @ appraisal, age 2