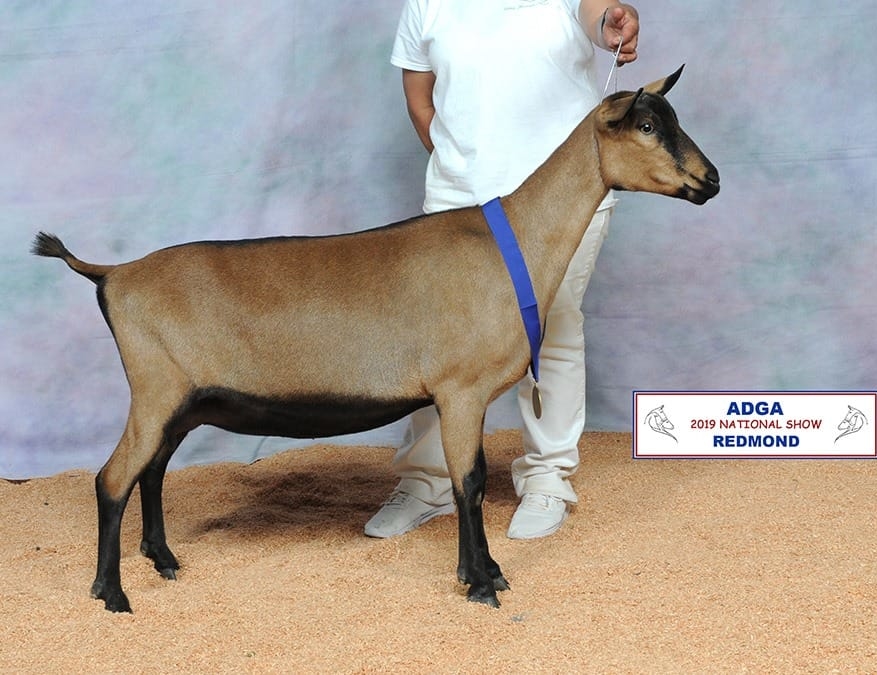 Soldier-Mtn Jaeger Straight Up x SG Soldier-Mtn LS Showkayce
Well, what can I say about Khrome? What an absolute thrill to actually win a nationals class for the first time, much less a Reserve National Champion! Khrome is a sweet-natured and easy going doe, which really adds to her whole package in my mind. She had a pretty nice precocious udder as a dry yearling, which if it fills out like it looks it should, ought to be very impressive! I'm excited to watch her mature!
---
Redwood Hills Zodiac Adonis x Soldier-Mtn RHRS Throwin' Shade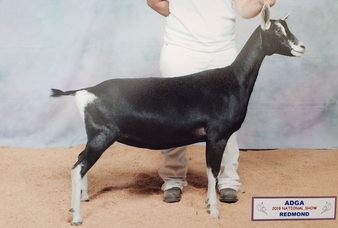 2nd place Junior Yearling @ 2019 National Show (behind Khrome)
Tea is a super stylish junior yearling that I just can't wait to see fresh. A daughter of our Spotlight Sale purchase, Redwood Hills Adonis Zodiac Adonis, she may be the best! She has a super open and wide escutcheon, strong pasterns and tight feet. She is a little standoffish personality wise, but settles down sweetly when you get hands on her. Her teat placement so far is absolutely plumb, so I am hopeful they stay that way! She had a pretty little precocious udder that looked super promising!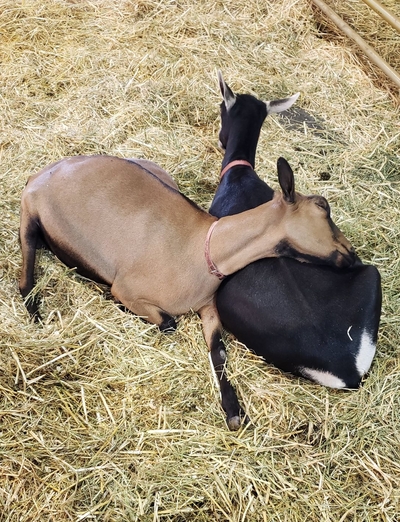 After you and your buddy win 1st and 2nd Junior yearling - it's time for a nap!
---
Soldier-Mtn RD Lip Service x Hoach's CC Sunshine
Sunsational was not shown as a kid, she went through quite a few gawky stages. Now bred and beautiful, she is one of the top doe kids of the year. Very upstanding, with tremendous width throughout, I am very much looking forward to her freshening. Her dam has always thrown gorgeous udders on her daughters, and I expect the same for Sunsational!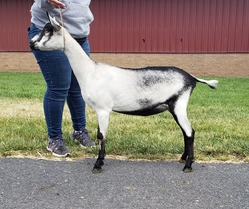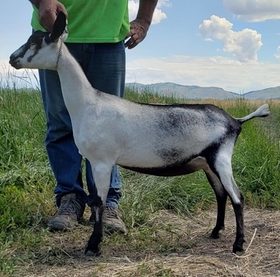 RWH Revolution Speed x Soldier-Mtn X-Rated Innuendo
8th place Senior kid @ 2019 National Show
Our Colorama kid that wasn't - I have to admit, I am not too sorry for her to still be here! She is maturing beautifully and I expect great things from this cross!
---
---
Soldier-Mtn RD Lip Service x Soldier-Mtn Sequoia Mystique
17th place Senior kid @ 2019 National Show
Cosmic is a very stylish kid from one of our biggest doe lines, out of Mystique. She is wide and correct, but true to her lineage, is slightly more sloped in the rump. In my experience, this levels out as they mature - go look at her dam
Mystique's page
as an example!
---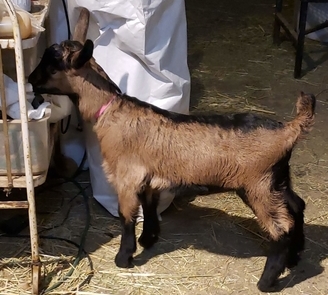 Colquitt's Delta Force x Soldier-Mtn Encore Matinee
13th Place Senior Kid @ 2019 National Show
I have loved this kid since the moment she was born. A deep red Chamoisee, she just has "that look" that sets her apart. She glides when she moves across the pasture, and she has a gorgeous front end with a swan neck to boot. I can't wait to see her freshen in 2020!
---
Colquitt's Delta Force x Soldier-Mtn Encore Matinee
16th Place Senior Kid @ 2019 National Show
City is the littermate sister to Charisma, and she is just as stunning. A little more width, a little less stretch, but an absolutely incredible escutcheon on her. She is extremely correct in feet and legs, and is a dark Cou Clair that really stands out. We are looking forward to seeing what these last two daughters of Matinee look like as they freshen in 2020.
---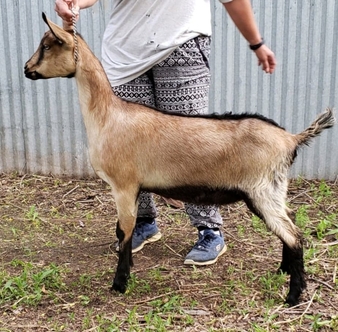 Colquitt's Delta Force x Soldier-Mtn SMFA Divine
10th Place Senior Kid @ 2019 National Show
Dailyah was one of triplet does from our beloved Divine, who we sadly lost due to metabolic issues a month after kidding. Her sisters went to separate ends of the country and Daliyah was the girl we decided to keep here with us. She has the long neck and stretch that her dam line is known for, and a very long bone pattern. Hopefully she turns out as well as her dam and granddam - the genetics are sure there.
---
Soldier-Mtn RD Lip Service x SGCH
Soldier-Mtn RHRS After Party
The "Party Girls" as we call them, stayed at home this year, as all the Party offspring have been notorious for being completely awkward and unbalanced looking kids. Thankfully, they have all grown out of that stage, and these girls are well on their way already. Since we sadly had to euthanize Party after she sustained a traumatic shoulder injury, these two are precious to us. Both of them have the style that we expect to see out of the Diva lineage. These girls are genetic FULL sisters to
Champagne Toast
and
Soiree
, looking at them should give a good indication of how we expect them to mature. Envoi is bred to Delta Force for 2020 kids.
---
Colquitt's Delta Force x SG Soldier-Mtn KK Secret Identity
15th place Intermediate @ 2019 National Show
Sabrina is very long bodied with tremendous depth of heart. She has a long rump and nice width between the hock. She is a very interesting linebreeding on Redwood Hills Revolution Speed, and I expect will freshen with improved rear udder attachment and teat placement over her dam.
---
---
Hoach's Revolution x SG Soldier-Mtn PVN Clara Bow
This pair of twins were the result of a really exciting A.I. to Clara Bow. I long admired the Hoach's Revolution daughters in the Waiilatpu herd, and wanted to incorporate that style into my own herd. The "Golden GIrls" are a nice solid set of doelings. Doris is a bit wider and shorter boned, and Lauren has a longer bone pattern and more dairy strength. Both are very wide between the hock, and as an added bonus - BOTH have wattles - a strange happening for our herd!

---
---