Soldier-Mtn PVLM Madam Maxime
LA@ 2 yrs - 88 +VEE
LA@ 3 Yrs - 92 EEEE
LA@ 6 yrs - 92 EEEE




Maxime at 2 yrs Maxime- 3 yrs




Maxime- 3 yrs 15th place 2009 ADGA Nationals- 3 yrs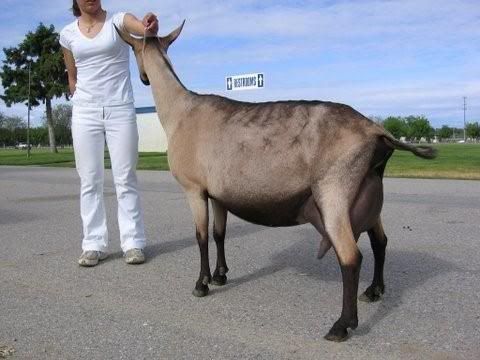 Maxime- 4 yrs




14th Place 2012 ADGA Nationals - 6 yrs old



Click for ADGA Pedigree



Sire
+*B Pearl Valley Laredo Montego
87 VEV (yearling score)

Sire
+*B Pearl Valley Yreka Laredo

Dam
SGCH Pearl Valley Hi-Fi's Mandolay
93 EEEE

Dam
Soldier-Mtn Bambi 1*M

Sire
*B Star-E Edsel

Dam
Lazy-"AA" Heather


Maxime, as a yearling is the largest and tallest doe in the barn. She kidded very late in the year (right after appraisal) so she has no yearling LA and was not shown. When we shaved her down after kidding, the general consensus was WOW. She is long, dairy and stretchy while keeping incredible width and strength. Her udder is gorgeous - high, wide, blending right into her stomach with small, nicely placed teats. I can't wait to have her appraised this year and to take her out on the show circuit.
2007-Still in Progress: 185-1550-43-41
2008:
Maxime aborted quads almost a month early in 2008. In spite of that, we were able to bring her into milk, and she topped out at 12# a day - not bad for not really freshening! She has unbelievable size and strength, still coupled with great dairyness. She is well over 200# and always the largest doe of the breed - usually of the entire show!
She was consistently at the top of her class this year, and I think a real freshening will do wonders, both for her udder and for her excess weight :)
2009: Maxime really took her time to shine this year. The only doe that beat her in open showing went on to win the 4 yr old class at nationals! A great freshening with triplets improved her dairy character and boosted her production - as her new appraisal score of 92 EEEE shows! Maxime is a gentle giant who exudes grace and strength equally. Her placing 15th at nationals was a bit disappointing, considering her herdmate Allure who has never beaten her in open shows was placed ahead of her. No matter, Maxime had her own cheering section, many of who came up to inquire about her after the class :)
2008 Lactation: 302-2360-65-63 (month early abortion)
Maxime daughter, Milana 3rd place Intermediate kid.
January 2011- What can I say about Maxime? She just gets better and better, and I'd love to have a dozen of her! Maxime was undefeated in the 4 year old class this year. She was BOB 3 times, and BDIS at a show with a nationally competitive Nubian herd in attendance. To top it off -- Maxime was our TOP milker in the herd this year, with 4110# to date -- final numbers aren't in as yet!
Dec- 2011
--
Max had a well deserved rest this year. She had a very difficult single kidding which affected her production, and left her a little light on one side. She seems to have bounced back well, and was live bred to Speed this fall for March kids. Her 2011 doeling by X-Rated is all we hoped for and was retained in the herd.
2012- Maxime had a great trip to the Colorado nationals thi
s
year, placing 14th against some really tough competition.
She was once again the shining star at appraisal, earning her FS of 92 EEEE for the second time!
At six years old, this was the last year that we plan on taking her out. She has earned the right to stay home!
2013- Maxime delivered us a great set of triplets (2 D, 1 B) sired by Redwood Hills Sequoia! We liked them so much, we kept them all! Her offspring are always some of the best in the herd. Maxime is the quiet queen of the barn. With her sheer size, there aren't many does who care to question her status....she just walks over the top of them if they get too uppity. Her mission in life is to eat and milk, and she does both with style and quiet dignity.


Baby Maxime!