Click for ADGA Pedigree
DOB: 2/27/2017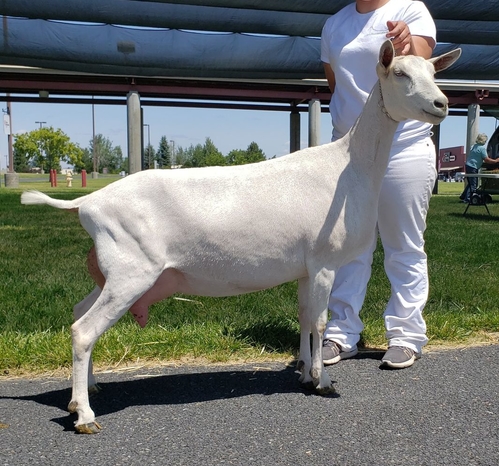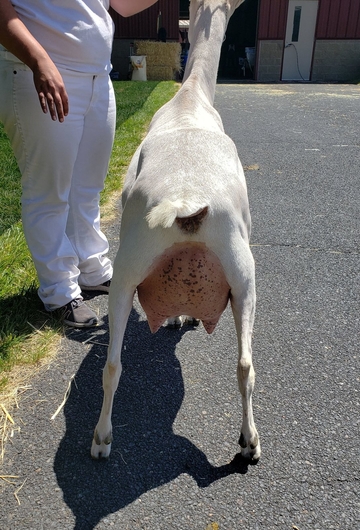 To answer the first question - no she isn't a Saanen! Opal is a continuation of our white line, which began with an Experiment doe named Ap-Cree-Acres Lady Lie Lie many years ago. Opal is now 4th generation American Alpine, and we cherish these white does we occasionally get - one reason is that they often end up being Top Ten milkers!
Opal's sire is the one and only Sodium Oaks Wampum - had I know what kind of babies were hidden in that straw, I would have used him sooner! Opal did not settle as a kid, and so was a first freshening 2 year old in 2019. She certainly did not disappoint us! Opal was the 11th place 2 yr old milker at the 2019 National Show.
We decided to do a breeding with her this fall that will produce kids with the most Sodium Oaks blood seen in a quite a few years - she has been bred to our Sasin Son - Soldier-Mtn Sasin Selleck for a late February kidding.
MILK RECORD

LIFETIME TO DATE: 205-2213-61-64


Lac   Fresh   DIM   Herd  CtrlNo  Proc_Date  Mod_Date LT Mk LI TC TC2 OS% PC Opn DCR Milk  DCR  Fat DCR Prot DCR  
 1 2019/05/02 205 82840105   147 2019/12/04 2019/12/06 0 00  0  0       0  0  -1  87  2210  88   61  86   64  89