Click for ADGA Pedigree
DOB: 3/17/2014
LA@ 4 yrs: 90 EVEE
LA@ 3 yrs: 90 VEEE
LA@ 2 yrs: 86 +++E
LA @1 yr: 88 VEEE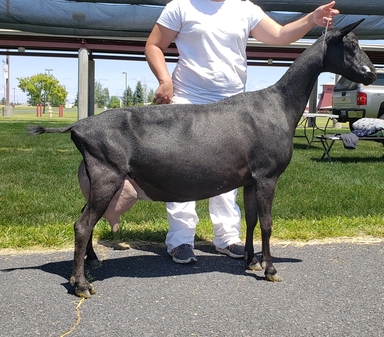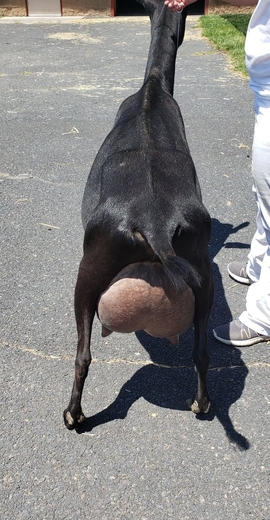 2019 - 5 yrs old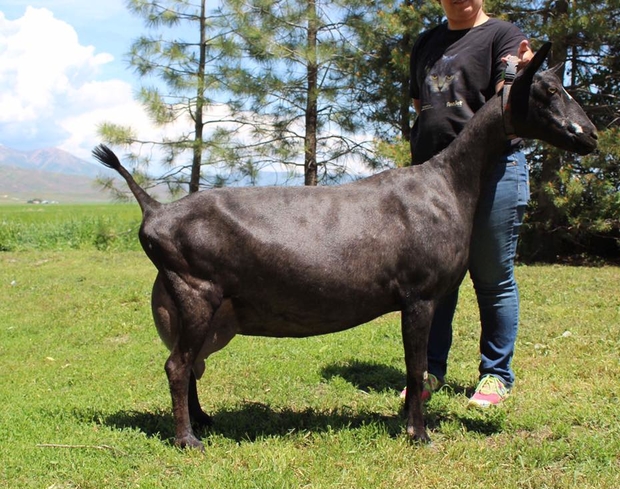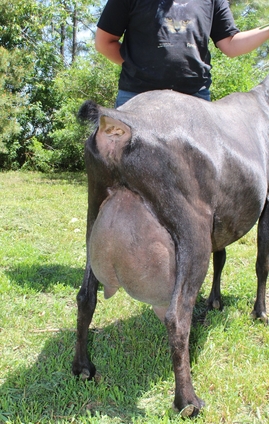 2018 - 4 yr old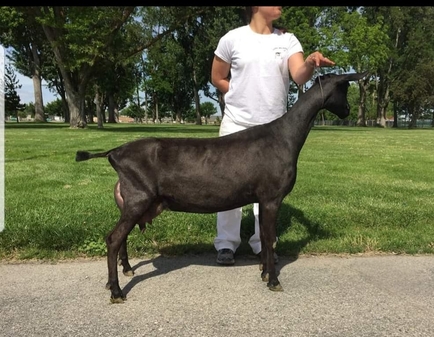 Yearling- 2015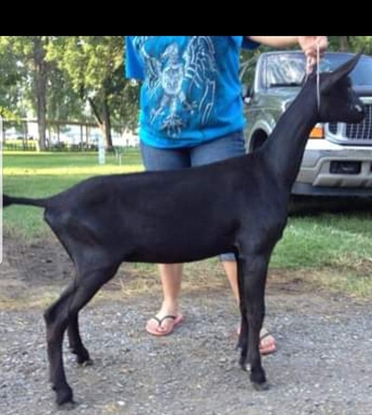 Baby Secret! 2014
2017 - 2 GCH Legs, 2x BOB, and a coveted BDIS! She was also Best Udder of Breed in 3 out of 4 rings!
2019/2020 - Secret is one of those does that makes you do a double take when you see her glide across the pasture. She was a standout as a kid, and continues to be so as a mature doe. A very capacious milker, she has milked over 15,000# to date. At the 2019 National Show, she was 11th place 5-6 yr old milker, behind her nemesis Grace, who was 3rd. She has 2 CH legs to her name, and it is only due to our lack of showing that she has not yet picked up that 3rd leg. Hopefully 2020 will get that out of the way!
Secret has been bred to Lacey Oak OC Ambition for early March kids.
MILK RECORD

LIFETIME TO DATE: 1180-15002-420-408
Lac   Fresh   DIM   Herd  CtrlNo  Proc_Date  Mod_Date LT Mk LI TC TC2 OS% PC Opn DCR Milk  DCR  Fat DCR Prot DCR 
 1 2015/04/28 217 82840105   106 2016/02/16 2016/02/18 0 00  0  0       0  0  -1  94  2280  94   68  94   63  96 
 2 2016/03/10 218 82840105   106 2016/12/29 2017/01/07 0 40  0  0       0  0  -1  96  2680  96   75  96   67  96 
 3 2017/03/07 239 82840105   106 2018/02/13 2018/02/15 0 40  0  0       0  0  -1  94  3950  94  104  94  112  94 
 4 2018/03/05 239 82840105   106 2019/01/18 2019/01/18 0 40  0  0       0  0  -1  94  2180  95   56  94   63  95 
 5 2019/03/01 267 82840105   106 2019/12/04 2019/12/06 0 40  0  0       0  0  -1  97  3900  97  117  97  103  97