Age 2 Age 2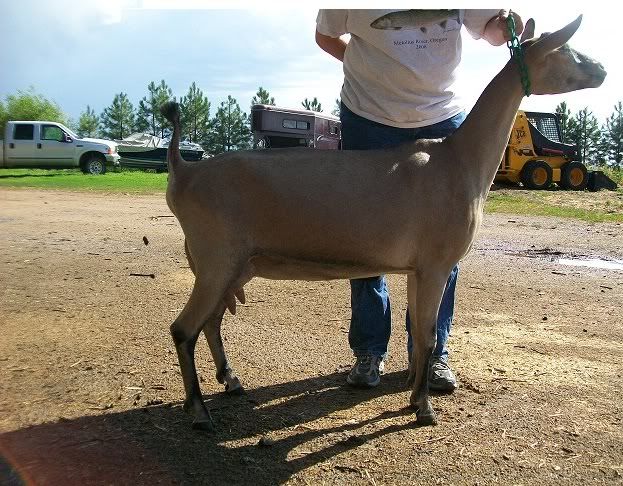 At appraisal - age 1 yr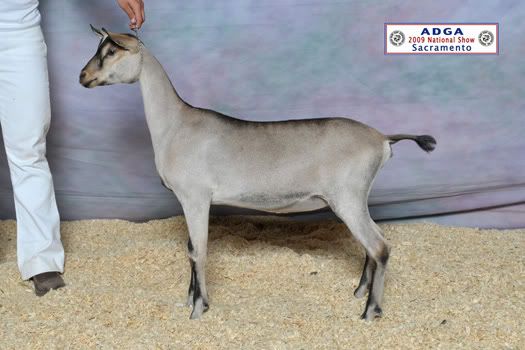 11th place Junior Kid



Soldier-Mtn SF Time to Shine
(click for ADGA pedigree)



Sire
*B Soldier-Mtn Sherwood Forrest
84 +VV (yearling)

Sire
*B Pearl Valley Lifetime Liasion

Dam
SG Soldier-Mtn Lady Agatha
90 EEEV

Dam
SG Soldier-Mtn PVLM Show Time
88 VEVE

Sire
+*B Pearl Valley Yreka Laredo


Dam
SG Soldier-Mtn Time Turner
91 VEEE


LA@1 yr 86 V+VV
LA@3 yr 90 VEEE
2010- Shiney is the pocket goat of the barn -- if you are doing something, just look down - you'll see Shiney! According to our appraiser, Shiney had one of the best udders of the yearling does. Unfortunately, kidding with a single, she simply did not have the maturity or the capacity to compete with the other girls. Shiney will be one of those yearlings that simply take a while to develop. She has a lovely, feminine appearance.
She is bred to our junior herdsire Soldier-Mtn Freelance Assassin for March kids. This is an exciting linebreeding on our old favorite, Mandolay.

2011- Shiney continues to develop and mature into a stunning doe. She is deepening out and her mammary system is superb. She is a joy to milk, with a soft buttery texture, and strips out to absolutely nothing. Shiney is one of those girls that you can't wait to clip in the spring to see what has changed!
Shiney is bred to Redwood Hills Revolution Speed for 2/12 kids. $450 - check
breeding list
for available reservations.
MILK RECORD
0-11-227-1020-36-31
1-11-244-2080-68-61