Click for ADGA Pedigree
LA @ 1 yr 86 VVVV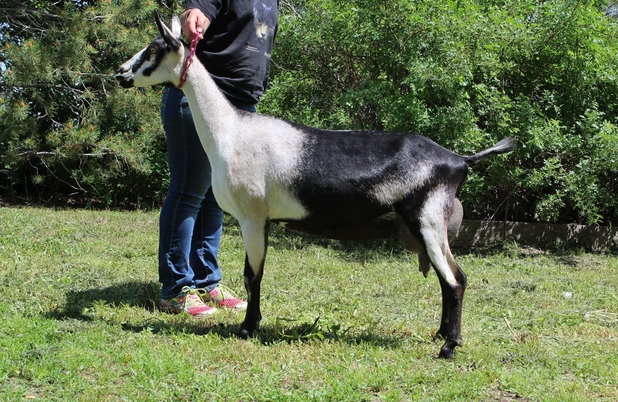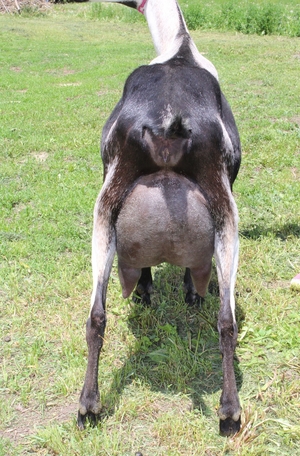 Pictured as a yearling
2019/2020 - Soiree was actually my pick of the 2 yr old does to go to Nationals in 2019. Literally the day before we left, she managed to hook a carabiner snap right through the side of her cheek. The hole was huge, and it was quickly obvious that there was no way she was going to be able to travel with us. The huge hole she had in her cheek actually healed up amazingly well, even though she leaked cud for a while. So - with all that, Soiree has actually never been off the farm as a milker. We plan on changing that in 2020!
She is going to be another very good milker, peaking at 15.5 # for her 2 yr old year. She has larger teats, but milks out very quickly and collapses down to nothing. Her 2019 daughter Glitter Bomb by Delta Force was the 10th place Intermediate kid at the 2019 National Show.
She has been bred to Soldier-Mtn DF Prince Rainier for a late March kidding.
-MILK RECORD
LIFETIME TO DATE: 482-5459-171-145
 1 2018/03/27 217 82840105   132 2019/01/18 2019/01/18 0 00  0  0       0  0  -1  90  2000  91   70  90   54  92
 2 2019/03/20 250 82840105   132 2019/12/04 2019/12/06 1 c0  0  0       0  0  -1  99  3320  99   96  99   87  99